Zoom
Sale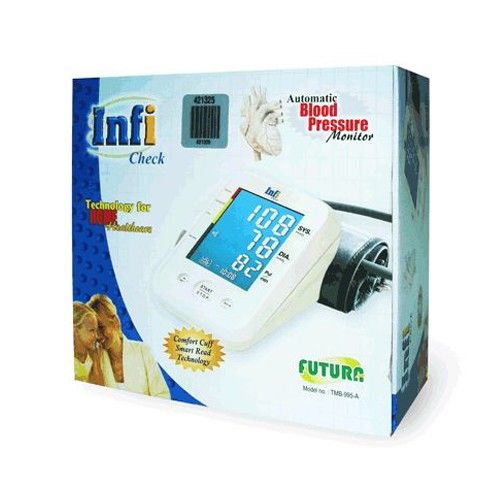 B P Monitor - Infi
Product Code:
BP02
Availability:
In Stock
Delivery In:
COD Available Delhi & NCR
Free Shipping (Delivery In 3 To 5 Days)
Urgent Shipping ( Delivery Within 2 To 3 Days )
120Memories with date & Time - To keep record of your blood pressure history
BLUE Backlit LCD - For better viewing experience
Irregular Pulse Detection - To detected if the patient has irregular heartbeat/Pulse
WHO Hyper Tension Indicator - To classify the BP into severe/moderate/mild/normal
Compatible with adaptor - Optional accessory available (against extra cost)
Infi Automatic Blood Pressure Comfort Cuff- Smart Read Technology Infi Futura is a 3rd Generation BP Monitor with Comfort Cuff-Smart Read Technology. It checks the Blood Pressure during INFLATION unlike others it does not need to wait for DEFLATION Infi Futura first measure the diastolic blood Pressure and then systolic Blood pressure and gives instant result without deflating. This new technology is faster, gives Extra comfort to arm of the patient and better Accuracy in case of repeated measurements.
Specifications
Monitor Type
– Automatic Inflate
Measurement Method 
– Oscillmetric
Display
– Liquid Crystal Digital Display
Measurement Range
- 20-300 mmHg 
 
Pulse  rate -40-199/min
Accuracy 
- 

+

 3mmHg
Pulse   
- 

+

5%
Battery 
- 4X105 V AA Alkaline batteries
Dimension  
- 138  X 100 X 73 mm(aprox)
Wieght 
- 300 Gm without batteries
Cuff Fits
- 22-32 cm
Storage & Transporatation    
- Temperature : 200c -600c
 
Relative Humidity 10%-93%
 
Write a review
Note: HTML is not translated!
Rating: Bad Good
Enter the code in the box below: